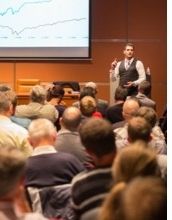 A. ANNUAL KICKOFF MEETING
Date:
October 5, 2022 from 2 pm - 4:30 pm (also recorded).
Location:
Renaissance Phoenix Downtown, 100 N 1st St, Phoenix, AZ 85004
Get inspired and supercharge your career! Learn how to best lead others, create a top culture of diversity, build a network of professional colleagues passionate about their development, and gain knowledge from some of the top HR executives both nationally and in your metro. Available seating is limited.
B. GREAT SPEAKERS EVERY MONTH.
Mark these future dates for an hour each (also recorded, watch Live or Anytime):

2022:

Jan.21, Feb.22, Mar.10, Apr.12, May.10, Jun.15, Jul.12, Aug.9, Sep.14, Oct.11, Nov.15, Dec.6.

2023:

Jan.10, Feb.14, Mar.14, Apr.11, May.9, Jun.13, Jul.11, Aug.8, Sep.12, Oct.10, Nov.14, Dec.12.

Hear from top HR leaders at Southwest Airlines, Vanderbilt, Cox, Boeing, AstraZeneca, Microsoft, and more (listed below).